TOLLBOOTH: A Clown Show
Devised and directed by Will Bishop* and Scott Ray Merchant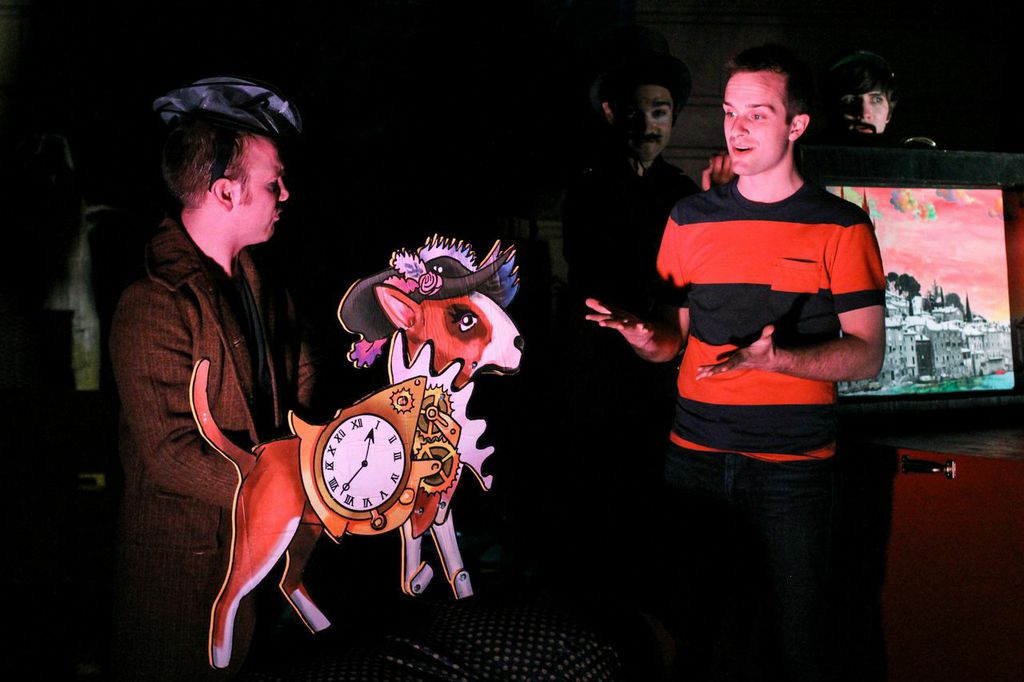 First Floor Theater partnered with the Chicago Park District to present the world premiere of Tollbooth: A Clown Show, a clown and object theater piece for all ages, performed in the Humboldt Park Field House Gym. For eight months, First Floor Theater's then Artistic Director, Will Bishop, and Chicago performer, Scott Ray Merchant, worked with a core ensemble of clowns, physical performers, visual artists and builders to create an original piece of theater loosely inspired by Norton Juster's classic children's book The Phantom Tollbooth.
Tollbooth piloted First Floor's education programming. Every Sunday, before the Tollbooth performance, our teaching artists lead two teams of up to 20 children from the Humboldt Park community in a free clowning and shadow puppet workshops to engage and encourage imagination and confidence in those young artists. Each workshop ran for an hour, and all participating children were able to see the production for free. This allowed the children to learn the crafts that made the show, then witness them in action.
Set in an interactive, re­imagined children's birthday party, Tollbooth explored the wonder inherent in the world around us, and celebrated the change that imagination can bring.
Production Team:
Jackie Valdez -- Set Design
Molly FitzMaurice* -- Dramaturgy
Amanda Cantlin* -- Light Design
Bobby Huggins* -- Sound Design
Alexis Chaney* -- Costume Design
Dav Yendler -- Puppet Illustrator
Grace Needlman -- Puppet Designer
Evan Garrett* -- Shadow Puppet Designer
Cara Feeney and Ellie Terrell -- Toy Theater Designers
Kelsey Just -- Scroll Designer
John Szymanski -- Composer
Andrew Rovner* -- Technical Director
Markie Gray* -- Production Manager
Performers:
Kyle Geissler
Kate Healy
Alex Knapp
Shaw Nigro
Tim Martin
Chris Mueller
Kasey O'Brien
Angelica Roque
*Denotes First Floor Theater company member